SAS - Live Bloomberg interview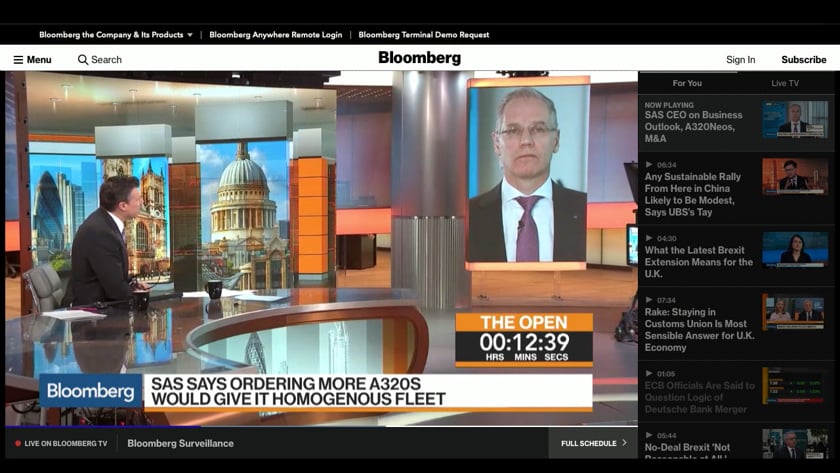 Our part
We enabled SAS to manifold their reach on their earnings day.
Background
Our quarterly report service includes a full service with livestreaming of analytics calls, press conferences and media service that allows reporting companies to
nuance their message through major broadcasters.
Delivery
The interview was broadcasted live on Bloomberg TV and Bloomberg.com as well as made available for on demand viewing.

Ministry for Foreign Affairs
WIKIGAP
WATCH
AND READ MORE

HIAB
75 YEAR ANNIVERSARY
WATCH
AND READ MORE

Epiroc
CAPITAL MARKETS DAY
WATCH
AND READ MORE

The Swedish Government
GLOBAL DEAL
WATCH
AND READ MORE

TEDxStockholm
GRETA THUNBERG
WATCH
AND READ MORE

Boverket
WEBBSEMINARIUM
WATCH
AND READ MORE

Volvo Construction Equipment
DIGITAL LEADERSHIP SUMMIT
WATCH
AND READ MORE

Staropramen
EN OFILTRERAD SYN PÅ LIVET
WATCH
AND READ MORE

Taggis
WEISS 360-CAMERA
WATCH
AND READ MORE

Södra
MY FOREST, OUR RESPONSIBILITY
WATCH
AND READ MORE

Hiab loader cranes
KRANFAMILJEN
WATCH
AND READ MORE

SAS
LIVE BLOOMBERG INTERVIEW
WATCH
AND READ MORE